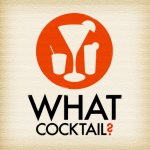 Oh this is so exciting! After months of fussing and worrying, What Cocktail? the iPhone app that makes drink recommendations for you has been sent to Apple for review. Another fine Flightless production – it looks outstanding, and it works just as I'd hoped it would. Hopefully if  all goes well and they will approve it quickly and good people the world over can start enjoying classic cocktails without having to become David Embury or some massive researcher.
Will keep you posted on the latest developments and when it's up for sale.
In the meantime, feeling joyous this fine spring evening, What Cocktail? says a Lemon Drop would be a good idea. Agreed and decision made!