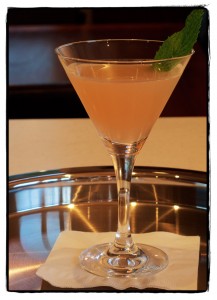 This month's Mixology Monday finds Chris at Spirited Remix asking us to put our humility aside and put forward our best drink. Sort of the opposite of cocktail  guilty pleasures. It should be an honest and original attempt to make a good drink – no hiding behind irony or kitsch.
What's surprised us was that we even had such a drink. You see, we've long held the view that, like typography, there's so many excellent specimens created by some insanely talented people over the years that it would take a life time just to appreciate them much less meaningfully add to the pantheon. Strangely enough though, we do indeed have such a drink. It's been our little secret and occasionally is it made and foisted upon unsuspecting friends. Most of the time we've just tinkered away and tried to make it better when we felt the urge.
We've found that the best time to drink one is when you are feeling a little cheeky. Or maybe you'd just like a reason to be a little cheeky. Perhaps something to help you tell more jokes or become a little more chatty?

We've named this drink The Flightless Cocktail in thanks to our good friends at Flightless with whom we created the What Cocktail? iPhone app. They'd politely asked if we could make it blue. A request we promptly ignored.
This is a drink you smell first. Mint, lime, and passion fruit are all very exciting, and we think quite sympathetic to the nose. There's a lightness and playfulness between the almond and lime tastes too. It's important that the sweetness of the Amaretto and the tartness of the lime should complement. A strong sour taste is essential but it shouldn't be too forward either. This balance is much the way that maraschino and violet work with lemon in an Aviation –  perhaps another justification for the name.
Here's how we make The Flightless Cocktail.
1.5 ounces of vodka (a premium like Grey Goose if we're feeling silly)
1 ounce lime juice
0.5 ounce of Amaretto
0.25 ounce of 42 Below Passion fruit vodka (a splash really because it very fragrant and can easily overpower)
a splash of cranberry juice
Add the ingredients to cocktail shaker filled with ice. Shake and strain into chilled cocktail glass, garnish with mint.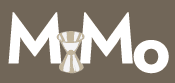 We've experimented using fresh passion fruits (like the ones from our garden) and this can be quite tricky to get right and it's very easy to go off into a whole world of sourness.
We've also tried a few variations, tearing up the mint, using more Amaretto (not advised), using more passionfruit vodka (not advised), not using cranberry juice (looks muddy), and turning it into a fizz (acceptable, but a bit of waste). We've also expended considerable effort trying to find a spirit other than vodka that would give us the results we wanted. Gin, nope. Rum, even Havana Club is too heavy. Tequila, interesting, but that's a whole other drink.
Traditionalists, will tell you this is just a Cosmopolitan with Amaretto instead of Cointreau and some passion fruit flavouring thrown in. And they may have a point, but we like to think this little number is better mannered and will help people side step the unfair backlash of the Cosmo haters. We're happy drinking our own creation in private, like it's our little secret.
If nothing else it provides an opportunity to compare and contrast and quite frankly a little passion with about drinking has got to be a good thing.
We had planned on sneaking this drink into What Cocktail? with a super low probability of showing up. It was going to be a bit of inside joke and a nod to the team involved but ultimately it seemed a little too self-indulgent. Even for us.
We'd love to hear what you  think of The Flightless Cocktail.
Edit: If you are curious, you can read about what other people created for MxMo.